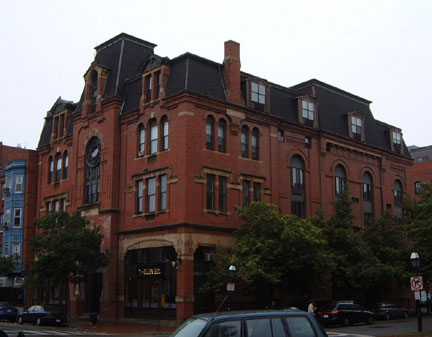 53 Berkeley Street in 2003
The Boston Tea Party opened at 53 Berkeley Street in the South End on January 20, 1967 and immediately became the place to play in Boston. Ill Wind performed there with some regularity (we shared the stage with the Hallucinations, Van Morrison, Beacon Street Union, Cloud, Earth Opera, J. Geils Band, and Fleetwood Mac). If we weren't working on a Friday or Saturday night I'd usually head down there for a busman's holiday. I remember seeing Traffic, the Yardbirds (with Jimmy Page), Counry Joe and the Fish, Blue Cheer, the Nazz, Chicago, the Jeff Beck Group (with Rod Stewart), the Velvet Underground, Sun Ra, Alice Cooper, and local bands such as Butter, Pluph, Ultimate Spinach, and the Grass Menagerie.
Economic changes, including the rise of the larger ballrooms such as the Fillmores East and West, eventually caused the Tea Part to close its doors, though it later reopened with Don Law at the helm at 15 Lansdowne Street in Kenmore Square (a larger venue that originally opened as the Ark in 1969). We never played there, but I saw Spirit, Bonzo Dog Band, Neil Young, Pink Floyd, the Allman Brothers, the Who, the Mothers of Invention, and T Rex.
53 Berkeley Street was recently converted into condominiums. The original main entrance, with its grand staircase (up which we had to schlep all our equipment) has been replaced by a 7-11.
You can find a history of the Tea Party, with reminiscences by manager Steve Nelson, at the New England Music Scrapbook.
-RZ